This how you can reach us: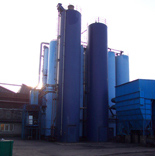 Lucka Eisenguß GmbH
Industriepark Nord
04610 Meuselwitz
Telefon 03448/754587-0 / -1 / -3
Fax 03448/754587-2
Welcome...
to our new website. We would like to bring you some current information around Lucka Eisenguss. Our core competencies are products of casting in the materials cast irons with flake graphite and cast irons with nodular cast iron from the unique piece to the production item in best quality.
We stand for a professional construction consulting. We are a reliable partner for our customers, from the model to final product. We are only satisfied, if our customers are satisfied.
We are very proud to present our work of the last years. You will find a selection of models under products among other things from the machine tool manufacture, transmission and engine construction or energy engineering.
Use also the opportunity to inform about our materials and the maximum dimensions of our production possibilities. Of course also the quality assurance is the center of attention for us to each time of the production process.
You want to know more about us? We keep our complete company history of Lucka Eisenguss on this website. You want to start a career at Lucka Eisenguß GmbH?
Then take look to jobs/training.